American novelist, newspaper, and magazine editor Edgar Watson Howe once said "If you have sense enough to realize why flies gather around a restaurant, you should be able to appreciate why men run for office."
The run for a political seat in Kenya, just like Prof. PLO Lumumba puts it, "is a very lucrative business" because politicians go there to enrich themselves and not to serve.
Our focus today turns into the political history in Kenya, as we look into some of the worst political betrayals in the run for the presidency, which is the highest seat on the land. These are politicians who made pacts, alliances, MOUs only to be left out after the purpose was achieved.
1. Raila Odinga vs President Daniel Moi- 2001-2002
Ahead of the 2002 General Elections, Raila, in one of his most unpredictable moves in political history, went to support his biggest rival then, President Moi, and the two merged their parties to form the New KANU. He was appointed in Moi's cabinet as Energy Minister, serving from June 2001 to 2002, during Moi's final term.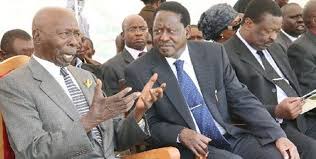 It is a move that many say Raila calculated in order to get support from Moi who was retiring, but that did not happen as Moi later endorsed Uhuru Muigai Kenyatta, son of his predecessor Mzee Jomo Kenyatta and Musalia Mudavadi as his assistant.
Many have questioned why Moi betrayed Raila, with others opining that he was returning the favour given to him by Jomo Kenyatta or it was because of the 1982 attempted coup, in which Raila was involved in.
Raila and his father, Jaramogi Oginga Odinga had been part of the political figures who had been tortured by Nyayo (as Moi was largely referred to) and they were some of his biggest political rivals. Could Moi have feared vengeance?
After the betrayal, Raila went and formed an alliance with Mwai Kibaki, who was then the opposition leader and the two won the 2002 elections.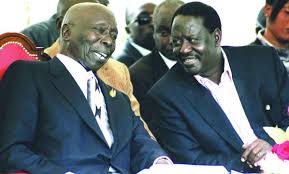 2. President Moi vs George Saitoti- 2002
"There comes a time when the nation is more important than an individual, but one day I will be proved right." This famous quote was given by George Saitoti in 2000, at Kasarani stadium, after being betrayed by Moi.
At the time, he was the vice president, a position he served as the longest in Kenya (13 years), and therefore was confident of getting endorsement from his senior, the then retiring Moi.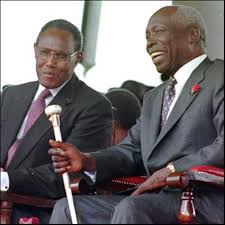 However, that was never going to happen, as he was not shortlisted in party nominations which had four vice-president positions with Musalia Mudavadi (Western), Katana Ngala (Coast), Uhuru Kenyatta (Central) and Kalonzo Musyoka (Eastern) while the Secretary-General seat had been reserved for Raila Odinga with Moi the party president.
Moi however endorsed Uhuru Kenyatta, a newbie then into politics, with Mudavadi as his vice. They later lost the elections to Mwai Kibaki.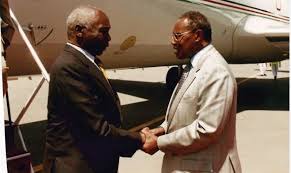 3. President Kibaki vs Raila Odinga- 2002-2007
After being betrayed by the retiring President Moi, Raila, with his Rainbow Movement, shifted to join the National Alliance Party of Kenya (NAK) led by then opposition leader Mwai Kibaki and the two formed the National Rainbow Coalition (NARC).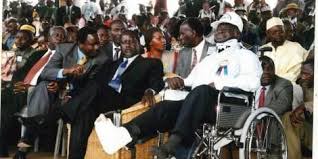 During the campaigns, while Kibaki was being bedridden after an accident, Raila is the one who took over the rallies all over the country with the famous phrase Kibaki Tosha. They later won the elections defeating KANU's Moi.
After becoming the president, however, Kibaki is said to have failed to honour the Memorandum Of Association (MOU), including among many the formation of the Prime Minister's seat for Raila, which was not supported in the constitution at that time.
Kibaki neither gave Raila's LDP party half of the slots they had agreed in the Cabinet Ministry, but rather sought to entrench and increase his own NAK's side in cabinet, even appointing MPs from the opposition parties (KANU and FORD people) to the cabinet.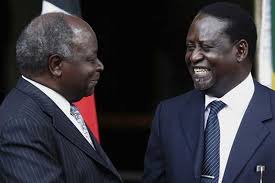 The betrayal saw the rise in call for a new constitution, to among many other things trim the powers of the president. Kibaki and his government opposed this, but Raila and his movement went on for a referendum which they won with 57% of the votes.
The results saw Odinga and the entire LDP group sacked out of the Cabinet on November 23, 2005.
With the betrayal, therefore, ahead of the 2007 elections, Raila was in opposition with his Orange Democratic Movement (ODM) party, with Musalia Mudavadi as his vice.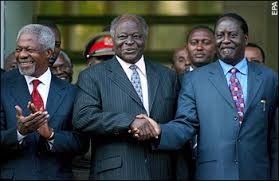 4. Musalia Mudavadi vs Uhuru Kenyatta and William Ruto
Do you remember the famous mademoni speech given by Uhuru Kenyatta in 2013, when he was explaining to his backyard on the fallout with Musalia Mudavadi on the run to the presidential ticket for general elections?
Well, let me take you back a bit over the same.
Ahead of the 2013 general elections, there was an issue with Uhuru Kenyatta and William Ruto, who wanted to vie but the pending case at the International Criminal Court (ICC) made it a fact that the two would have difficulties running for the Presidency.
It was then that Uhuru invited his long term friend in politics, Musalia Mudavadi, to also vie for the party ticket since he seemed the best option. Sources say they had even signed a Memorandum Of Association in which Uhuru would leave the ticket for Mudavadi.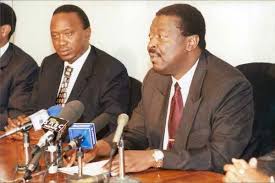 The plot, however, backfired after Kenyatta and Ruto changed their mind, with Kenyatta famously claiming he had been 'misled by demons.'
According to The Standard, when Uhuru addressed his supporters about what came to be known as the mademoni speech, he said in Gikuyu ndiraminya ni ngoma iriku cianyitire, which a Jubilee source revealed was that what Uhuru meant to say was a direct translation meaning "I don't know what demons possessed me to sign the MOU."
"His intention and statement was however lost in translation and interpreted later to mean he had called Mudavadi and UDF demons, which the source strongly disputes as not true." The Standard reported.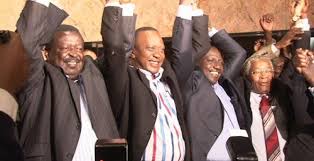 The two are however long term friends in politics, which dates back to 2002 when President Moi appointed them as Cabinet ministers and anointed them as his preferred successors for the General Election with Kenyatta as presidential candidate and Mudavadi as the Vice President.
They however lost to Mwai Kibaki.
5. President Uhuru Kenyatta vs William Ruto- 2017-2022
The current political divorce between the President and his deputy is in oblivion, even before the end of their second term together.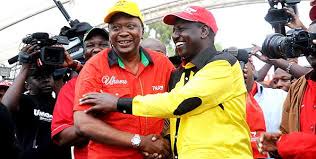 With their campaigns dating back to 2013, Uhuru Kenyatta had been vocally heard saying that he will serve 10 years, and DP William Ruto another 10 years. This, however, seems to be a tune of a forgotten song.
The events of this divorce are highly related to March 9, 2018, when Raila Odinga and President Uhuru Kenyatta made a joint televised appearance famously termed as the 'handshake' in which they referred to each other as 'brothers,' and agreed to put aside political differences to allow Kenya to move forward.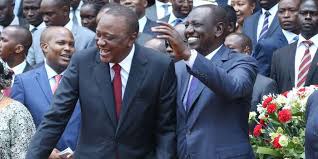 In 2019, the two came up with a Building Bridges Initiative (BBI) where they commissioned a joint task force that would collect views from Kenyans and report their findings. According to them, the BBI will solve many of Kenya's problems including ethnicity, electoral issues, equal distribution of resources among many others.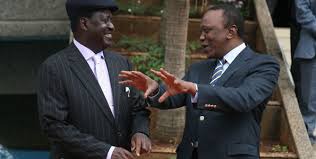 Ahead of the 2022 elections, the political marriage between president Uhuru Kenyatta and his vice, who according to the MOU would have been his successor, William Ruto is well as over. We now have Tangatanga and Kieleweke in the same Jubilee Party.
Time will tell. Indeed, politics is a dirty game.
(Be your brother's keeper during this fight against Covid-19 by wearing a MASK and keeping social distancing. Email us news tips to info@wakajuaness.com or WHATSAPP us to +254711611347