MEDIA: A video caption believed to be that of Kapseret MP Oscar Sudi. IMAGE/SIMIYU WAKAJUANESS
A video of a Tangatanga-affiliate MP "hailing" the Coronavirus pandemic for halting the BBI activities has gone viral.
The video, purposefully shot by a man believed to be Kapsaret MP Oscar Sudi has become the talking point as many Kenyans criticize his move.
In the video doing rounds online, Mr. Sudi is seen wearing dark sunglasses and a yellow T-shirt driving alone in a palatial car, talking to Cout Secretary Francis Atwoli.
In the video, Sudi is mocking Mr. Atwoli for chest-thumping about the Building Bridges Initiative (BBI) in Kenya.
"Mr. Atwoli, God's desires are inescapable," mocks Sudi in the video.
"You've been chest-thumping about the BBI and reggae. Now Coronavirus has not only stopped that but the world as well." He adds in an absolute mockery to the BBI initiative that the Tangatanga wing has been understood to oppose.
Mr. Atwoli has been one of the vocal supporters of the BBI across the country.
The initiative was started to unite the country but it's progress has been opposed by the Deputy President William
Ruto's Tangatanga wing.
The DP and his battalion has termed the initiative as a springboard for some leader to get "free" power, allegations that have been dismissed by President Uhuru Kenyatta and Opposition leader Raila Odinga.
However, in the video understood to be released by Mr. Sudi, the mood seems to celebrate the coronavirus pandemic that has stopped all the BBI rallies.
The video has kept Kenyans talking as many online users roast him for taking advantage of the widespread disease to mock a political opponent.
Mr. Sudi also warns the elderly Atwoli to keep off from his regular pressers at it endangers him to the coronavirus that could be hiding in the virus.
The BBI rallies were halted when President Uhur Kenyatta banned public gatherings to combat the spread of Covis-19 virus.
"In fact that virus does not favour people of your age," Sudi said in reference to the statistics that shows more elderly are dying from the corona virus than the youths.
Finally, Sudi again is seen sympathizing with Atwoli for losing his father-in-Law.
Mr. Atwoli's wife Mary Kilobi lost her father a week ago and burial is slated for this Saturday.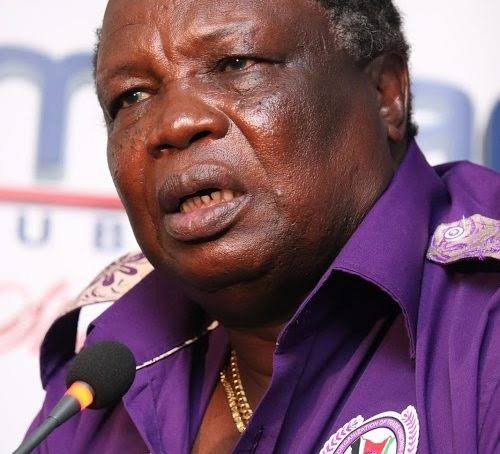 The Cononavirus cases have now surpassed 1 million across the world with Kenya recording 122 cases so far, among them four deaths and four recoveries.
(Be your brother's keeper during this fight against Covid-19 by wearing a MASK and keeping social distancing. Email us news tips to info@wakajuaness.com or WHATSAPP us to +254711611347